Posted by Sean in Celebrities
Welcome back!
Daughter of Billy Cyrus and successful singer-actress, Miley Cyrus, duets with herself in this video clip promoting her next movie flick, The Last Song, which debuts in theaters on March 31. The dragged-out delay in her vocals actually works pretty well with the track, and with the movie footage used in the video and the addition of Miley's real-life boyfriend and costar, Liam Hemsworth, this one should be a hit. Why don't you decide what you think of Miley's new video in our comments section.
Posted by Brandon in Celebrities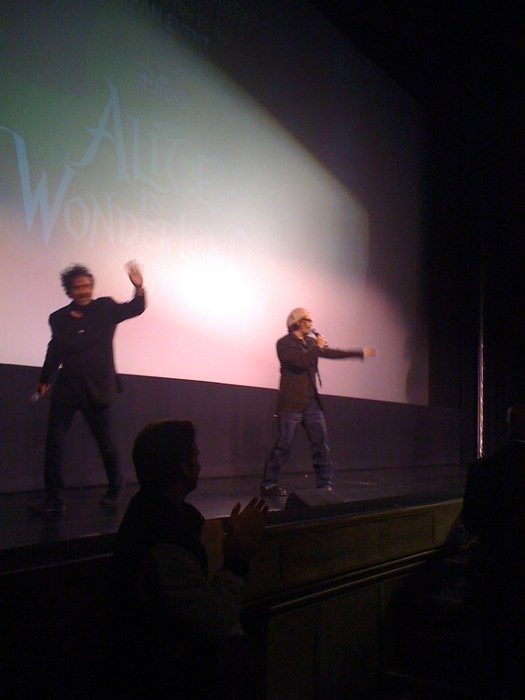 Anticipating fans of the upcoming Tim Burton film, Alice In Wonderland got to see a scruffy Johnny Depp in Hollywood at the AIW Great Big Ultimate Fan Event on Friday. Depp appeared onstage alongside co-stars Anne Hathaway, Helena Bonham Carter, Michael Sheen, Crispin Glover, and Mia Wasikowska. The cast of Alice only graced the stage for a few minutes along with producer Tim Burton after performances by some of the bands who recorded songs for the movie's soundtrack, including 3OH!3, Never Shout Never, Metro Station and Kerli. Avril Lavigne's single, "Alice" still heads up the album.
Alice In Wonderland will finally open in participating venues on March 5th.
3OH!3, Alice In Wonderland, Anne Hathaway, Avril Lavigne, Celebrities, Crispin Glover, Disney movies, Helena Bonham, Johnny Depp, Kerli, Metro Station, Mia Wasikowska, Michael Sheen, Movies / TV, Music, Never Shout Never, News, Tim Burton
Posted by Sean in Celebrities
While the pair were vacationing in Hawaii, Mike Comrie decided to pop the question to singer-actress Hilary Duff according to what one of Duff's reps told UsMagazine.com. "After having been together for over two years, they are very excited to share this happy news," the rep continued. "They are thankful for all of your warm wishes."
The world might have already got the hint when the media released photos of the couple's every moment including a snapshot of Comrie appearing to pop the question down on one knee before more photos are seen of Hilary obviously admiring her new-clad ring.
Posted by Courtney in Celebrities
Lil Wayne has just added more limelight to the gossip and scandal aspects of his media life. More legal issues are appeared as Mr. Carter was hit with a lawsuit recently for copyright infringement.
Dwayne Michael Carter has been sued with a $2.5 'milli' copyright infringement suit for the song "Mrs. Officer," off of the multi-platinum album Tha Carter III. The company called Royalty Network filed the lawsuit Dwayne and Cash Money Records in Manhattan Federal Court on February 17th. Producer of the track, Darius "Deezle" Harrison, claims Cash Money stopped paying royalties for the song after allegations arose that parts of a song called "Crush" by a little-known artist named Sky were stolen for the track.
"Deezle" Harrison is currently seeking all profits made from the song, "Mrs. Officer" including streaming media, music videos, and ringtones.
Cash Money Records, Celebrities, copyright infringement, Darius "Dezzle" Harrison, Dwayne Michael Carter, lawsuit, Lil Wayne, Mrs. Officer, Music, News, Weezy
Posted by Brandon in Celebrities
Tiger Woods finally emerged this morning from his three months of scandal and drama looking humiliated yet humbled. He repeatedly apologized for his "irresponsible and selfish behavior." Some believe that Tiger's 13 minute prepared speech from the PGA Tour headquarters in Vedra Beach, Florida, his first appearance since Thanksgiving Day.
Woods apologized to his wife, Elin, who was not present at the speech conference. He also made apologies to his mother, Kultida, his sponsors, his friends and fans. "I cheated. What I did was unacceptable, and I'm the only person to blame." CBS has released an exclusive apology speech conference clip from the pro-golfer who closed his statement with, "I ask you to find room in your heart to, one day, believe in me again." You can decide if his attempt for a comeback is genuine or not..
apology, CBS, Celebrities, Elin, golf, Kultida Woods, News, public statement, speech conference, Sports, Tiger Woods
Posted by Megan in Celebrities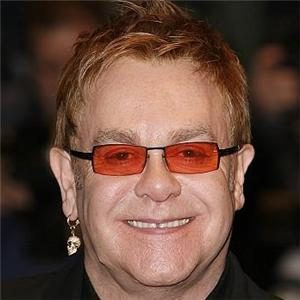 Elton John has always been known for sparking controversy with the fact that he does not hold back on expressing his feelings and opinions. This time he is stirring the waters of the Christian religious beliefs.
John tells PARADE magazine, "I think Jesus was a compassionate, super-intelligent gay man who understood human problems. On the cross, he forgave the people who crucified him. Jesus wanted us to be loving and forgiving. I don't know what makes people so cruel. Try being a gay woman in the Middle East — you're as good as dead." He goes on to talk about other topics in the interview such as the reasons why he hates fame and his life and relationship with his current partner, David Furnish.
Celebrities, Elton John, gay, homosexual, Jesus, News, PARADE, religion
Posted by Courtney in Celebrities
One of the stars of the hit show The Hills, Kristin Cavallari, attracted a lot of attention at the Super Bowl in Miami — but for all of the wrong reasons. A source from the UsWeekly states, "She was wasted the entire time, She was going around to everyone, asking them to score her some coke." MTV has declined to comment and allegations were refuted by Cavallari's lawyer.
Close friends and acquaintance of Kristin's say that this kind of behavior has become more and more typical of the 23 year-old party star. "Her issues are becoming apparent to everyone," an insider reveals. "She's getting scary-thin and not showering regularly…She's clearly unhealthy." Kristin's friends from The Hills, Audrina Patridge, Brody Jenner, Lo Bosworth and Stephanie Pratt have all tried to urge her to check into rehabilitation with no luck, a source states, "She doesn't think she has a problem."
[tags]Kristin Cavallari, cocaine, coke, Super Bowl, The Hills, rehab[/tags]
Posted by Brandon in Celebrities
EOnline has reported that author of the Harry Potter series has found herself in the middle of a plagiarism lawsuit. Bestseller Joanne Murray, better known under her writing name, J.K. Rowling, is the newest addition to the 2004 suit against her British publisher. Bloomsbury accuses Rowling of stealing the idea for "Harry Potter and the Goblet of Fire," the fourth book in the series. The publisher states that she plagiarized ideas from a 1987 children's novel called "The Adventures of Willy the Wizard: No. 1 Livid Land," written by Adrian Jacobs. Jacobs' book claims he came up with ideas and elements that Rowling's 'Potter' books are famous for such as wizard schools, hospitals, and prisons.
Rowling says in a statement, "I am saddened that yet another claim has been made that I have taken material from another source to write Harry." "The fact is, I had never heard of the author or the book before the first accusation by those connected to the author's estate in 2004; I have certainly never read the book," she added before continuing with, "The claims that are made are not only unfounded but absurd and I am disappointed that I, and my U.K. publisher Bloomsbury, are put in a position to have to defend ourselves."
[tags]J.K. Rowling, Harry Potter, plagiarism, lawsuit, Bloomsbury, The Goblet of Fire, Adrian Jacobs, Joanne Murray[/tags]
Posted by Brandon in Celebrities
Tiger Woods' agent, Mark Steinberg, said in an email statement, "Tiger Woods will be speaking to a small group of friends, colleagues and close associates at 11 a.m. EST Friday at the TPC Sawgrass Clubhouse in Ponte Vedra Beach, Florida."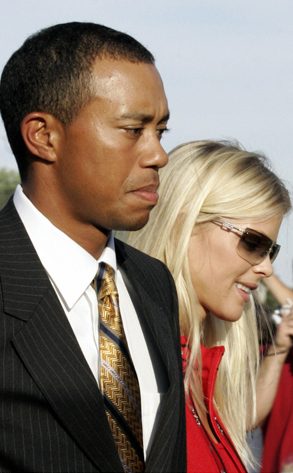 Although reports state that he won't be yielding any questions, the 34 year-old golf pro better bring his A game, he has been a hermit as of late, making his last public announcement Thanksgiving Day. He's spent his recent times in Mississippi undergoing treatment for sex addiction and trying to salvage what is left of the marriage with the wife of his two children, Elin Nordegren and so far no one has seen the ring back on her finger.
[tags]Tiger Woods, Mark Steinberg, Elin Nordegren, public statement, sex addiction[/tags]
Posted by Brandon in Celebrities
[tag]Vivienne[/tag] and [tag]Knox[/tag], the two [tag]twins[/tag] of [tag]Brad Pitt[/tag] and [tag]Angelina Jolie[/tag] are seldom seen out and about — but [tag]paparazzi[/tag] managed to sneak a peek of Brad and Angelina enjoying an outing with the kids in [tag]Italy[/tag].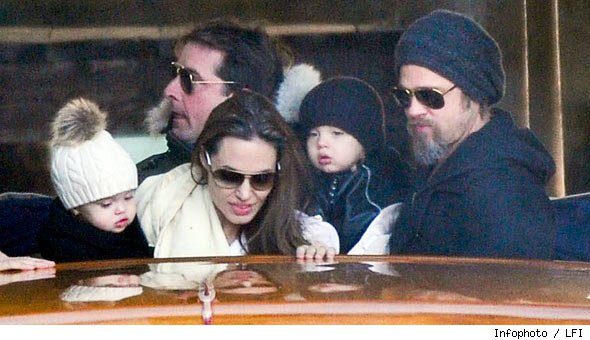 We finally got an opportunity to see the 19 month old twins with their [tag]A-list[/tag] parents while taking a boat ride in Venice. Angelina is to undergo the filming of "[tag]The Tourist[/tag]" in March co-starring with [tag]Johnny Depp[/tag]. The last snapshot taken of the kids was all the way back in October in Amman, Jordan by a fan who uploaded the pictures on Twitter.
Angelina Jolie, Brad Pitt, Celebrities, Italy, Johnny Depp, Knox, Movies / TV, News, The Tourist, Venice, Vivienne