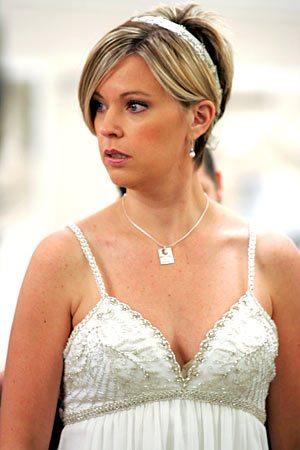 It appears that "Jon and Kate Plus 8″ star, Kate Gosselin, has a lead foot. Gosselin has been busted for speeding once again. Kate got a ticket for going 73 mph in a 55 mph area on February 21st, in Latimore Township, PA. She pled guilty five days later, and was forced to pay a $155.50 fine.
Kate did nearly the exact same thing, getting busted for speeding back in November of 2009, and had to pay $109.50 in fines.
Related Posts
Comments (2)
about 3 days ago – No comments
I think we can speak for the majority when we have come to agreement with the the favoring side of the Gosselin vs. Gosselin scandal, including PopEater. The obvious outcome of the bout between the two "Jon and Kate Plus 8″ stars is that Team Kate wins by unanimous decision. It's hard to believe the More >
about 3 days ago – No comments
Director Ron Howard has took notice of Heidi Montag's new found acting talents that have suddenly "busted out." The A-list director has collaborated with Montag, star of "The Hills," on a new video from FunnyOrDie, in which he directed.
Heidi Montag Says No to Plastic from Heidi Montag
about 4 days ago – No comments
It seems the "Jon and Kate Plus 8″ Queen has bigger and more fearful things to worry about than handling eight kids day-to-day — like a fear of the dance floor. In an article with BuddyTV, the reality TV star supposedly has a fear of dancing, and she plans to use "Dancing with the Stars" More >
about 5 days ago – No comments
Check out this funny find, courtesy of TMZ, and before you get to excited.. it's just Antonio Banderas. Keep checking in to PCN.com for status updates on tonight's Oscars Awards ceremony.