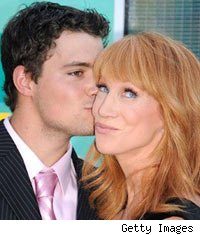 Kathy Griffin made a trip to Alaska on Friday night to leave the concert crowd giggling with jabs and jokes towards Alaska's former governor, Sarah Palin. PopEater reports that Griffin was escorted on to the stage by good pal, Levi Johnston, who is also the father of Palin's grandchild. According to the reports, the comedian showed up at Palin's home in Wasilla earlier that day to leave an invitation for Republican, Sarah, to attend the show.
Griffin talked about the news of Palin shopping for a reality show about life in Alaska to all the major networks, she said it was a comedy, "gift from God." Kathy and Johnston have attended last year's Teen Choice Awards together, and although Griffin claims the friendship is a publicity stunt, it seems to be legit. Last year Kathy told Time Magazine, "This one's got legs," adding, "I just have so much in common with Levi. We can talk for minutes. As long as I can quote 'The Bachelorette' to him, I'd say we have a connection."
If you're new here, you may want to subscribe to my RSS feed. Thanks for visiting!
Related Posts
Comments (2)
about 2 days ago – No comments
The star and grieving mother, Marie Osmond, unexpectedly and emotionally made some remarks in front of the hundreds of other mourners attending her son, Michael Bryan's funeral this Monday. Reports from PopEater, say that Osmond stood as the service was near closing and spoke to the other attendees in Provo, Utah at the Chruch of More >
about 2 weeks ago – No comments
Jay Leno is making sure that his highly-anticipated comeback to the 'Tonight Show' will be successful with his guest list. Leno will be returning to late-night television on March 1st, and you can bet people will be watching based on the show's guest list for this month. According to his official site, Jay has booked More >
about 2 weeks ago – No comments
Kristen Stewart and Eddie Redmayne, the co-stars of movie 'The Yellow Handkerchief' which is set to release on February 26th, got on the phone with PopEater to discuss their first impressions of each other, as well as their diet of crawfish and burgers. They also spoke on how they are planning to make tabloid headlines More >