Posted by Brandon in Celebrities
No comments
If you're new here, you may want to subscribe to my RSS feed. Thanks for visiting!
[tag]Vivienne[/tag] and [tag]Knox[/tag], the two [tag]twins[/tag] of [tag]Brad Pitt[/tag] and [tag]Angelina Jolie[/tag] are seldom seen out and about — but [tag]paparazzi[/tag] managed to sneak a peek of Brad and Angelina enjoying an outing with the kids in [tag]Italy[/tag].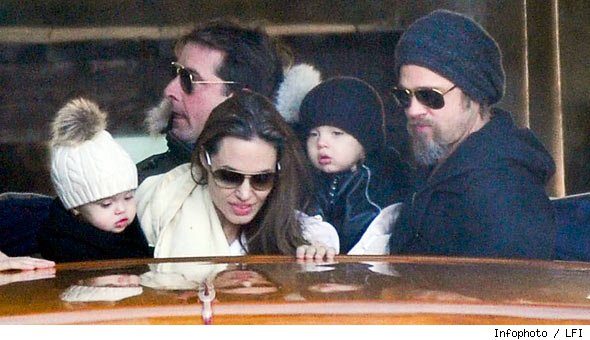 We finally got an opportunity to see the 19 month old twins with their [tag]A-list[/tag] parents while taking a boat ride in Venice. Angelina is to undergo the filming of "[tag]The Tourist[/tag]" in March co-starring with [tag]Johnny Depp[/tag]. The last snapshot taken of the kids was all the way back in October in Amman, Jordan by a fan who uploaded the pictures on Twitter.
Angelina Jolie, Brad Pitt, Celebrities, Italy, Johnny Depp, Knox, Movies / TV, News, The Tourist, Venice, Vivienne