Posted by Courtney in Movies / TV
Welcome back!
The multi-star casting romance comedy 'Valentine's Day' roared at the box office this weekend earning a whopping $52.4 million from the audiences in the opening weekend gaining it the number one spot on the Holiday that shares it's name.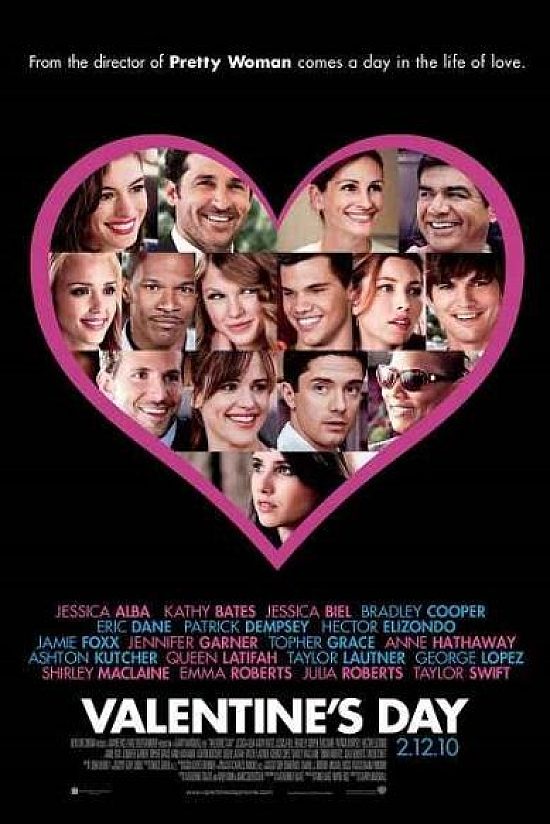 Having the title of the movie match the Holiday it's released on is a no-brainer– and it worked. The film, directed by Gary Marshall, who also directed 'Pretty Woman' made the movie a celebrity bonanza with a cast that includes a variety of screen stars like Ashton Kutcher, Jessica Alba, Jennifer Garner, Anne Hathaway, Julia Roberts, Jamie Foxx, Queen Latifah, Jessica Biel, Shirley MacLaine, Taylor Swift and Taylor Lautner.
[tags]Valentine's Day, movie, box office, Jessica Alba, Taylor Swift, Ashton Kutcher, Julia Roberts[/tags]
box office, jessica alba, movie, Movies / TV, News, valentine's day
Posted by Megan in Celebrities
Russell Brand and Jonah Hill team up once again with the same team that made Forgetting Sarah Marshall, if you liked that movie you'll laugh your ass off at the trailer for the new comedy movie starring Brand and Hill.
Not to mention, Russell's character in Marshall, Aldus Snow, will be the centerpiece in the movie. Jonah is featured in the film as P. Diddy's assistant who is given the task to escort the crazy rock star to a venue at the Greek Theater in Los Angeles. When Aldus' antics gets out of hand this simple task quickly turns into a hilarious roller-coaster ride.
[tags]Russell Brand, Jonah Hill, Get Him to The Greek, movie, Knocked Up, Superbad[/tags]