Posted by PopCult Staff in Movies / TV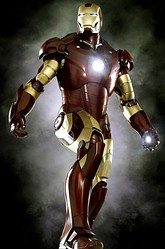 Following up on the Oscars and putting an end to the Awards streak in Hollywood, now we have time to look ahead towards the upcoming blockbusters this summer. "Iron Man 2″ didn't waste anytime making it's debut with a new trailer online, immediately following the Academy Awards show. Robert Downey, Jr has returned as superhero, Tony Stark. He costars with some new enemies this time, such as Whiplash — played by Mickey Rourke, and Scarlett Johansson as the Black Widow. Sam Rockwell also makes an appearance as villain, Justin Hammer. The good guys fighting alongside Iron Man is Gwyneth Paltrow, returning as Pepper Potts, and the return of "Rhodey" Rhodes.. also known as War Machine will be replaced by Don Cheadle. Terrence Howard played the James Rhodes character in the first movie but doesn't return for the sequel.
Iron Man 2 comes to theaters nationwide on May 7th. More >
If you're new here, you may want to subscribe to my RSS feed. Thanks for visiting!
Black Widow, Don Cheadle, Gwyneth Paltrow, Iron Man 2, Justin Hammer, Mickey Rourke, movie trailer, Oscars Awards, Pepper Potts, Robert Downey Jr, Sam Rockwell, Scarlett Johansson, Terrence Howard, Tony Stark, War Machine, Whiplash
Posted by PopCult Staff in Celebrities
The hottest up-and-coming actress of 2010, Kristen Stewart, looked stunning on the carpet in Los Angeles at the 82nd annual Academy Awards show tonight. The ceremony is being held at the Kodak Theatre at Hollywood & Highland Center. The Twilight beauty will be presenting alongside 'Eclipse' costar Taylor Lautner — who is enjoying his very first Academy Awards show live.
The extravagant affair kicks off at 8 pm cst, the Oscars event is set to be hosted by Steve Martin and Alec Baldwin. The final award for Best Picture will be contested by all the top movies, including nominees: Avatar, The Hurt Locker, District 9, Up, Inglorious Basterds, Up in the Air, An Education, Blind Side, A Serious Man, and Precious.
Academy Awards, Alec Baldwin, Avatar, Blind Side, District 9, Eclipse, Inglorious Basterds, Kristen Stewart, Oscars Awards, Precious, Red Carpet, Steve Martin, Taylor Lautner, The Hurt Locker, Twilight
Posted by PopCult Staff in Celebrities
Check out this funny find, courtesy of TMZ, and before you get to excited.. it's just Antonio Banderas. Keep checking in to PCN.com for status updates on tonight's Oscars Awards ceremony.
Posted by PopCult Staff in Celebrities
Sandra Bullock, who has a good chance at being Best Actress at tonight's Oscars, took the stage on Saturday night to claim her victory as Hollywood's worst actress. 45-year-old Bullock decided to appear in person to collect the Razzie Award for Worst Female Performance in the movie All About Steve. More >