Posted by Brandon in News
No comments
If you're new here, you may want to subscribe to my RSS feed. Thanks for visiting!
Nate Robinson, a former University of Washington star, won his third NBA slam-dunk contest Saturday at the All-Star Weekend in Dallas and then said he's done with the event.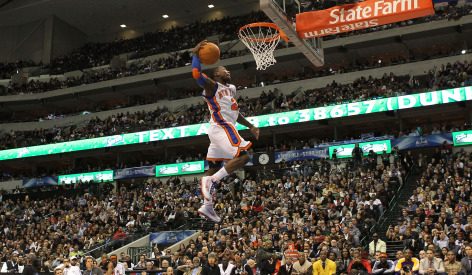 Nate Robinson soaring through the air..
This year's event went on with not much excitement and not many major NBA stars after Lebron James pulled out last month. Robinson didn't jump over any props this year although he did shake an attending Dallas Cowboys cheerleader's pom-poms after reverse-jamming his final dunk off the backboard.
[tags]Nate Robinson, All-star weekend, NBA, basketball, slam dunk contest[/tags]
all-star weekend, nba, News, robinson, slam dunk contest, Sports